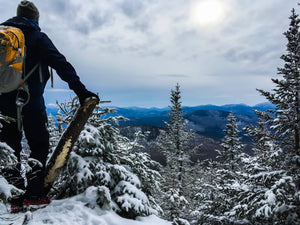 Kathoola vs Hillsound crampons: Test & Comparison
The addition of removable crampons to an ice-surfing boot is not a luxury - it's all about safety. We can even go so far as to say that it is often what makes the difference between reaching the top of a mountain or turning back when the conditions get worse.
While there are removable crampons for a variety of uses, from walking to mountaineering, to jogging on an icy trail, we've looked at two models of mountain hiking crampons.
Hillsound Trail Crampon Ultra
The set consists of an elastomer sheath wrapping the top of the boot and chains attached to metal cleats and a Velcro strap ensuring tension on the sheath. The 18 aggressive peaks of 13 to 17 mm ensure a reassuring grip on any surface: ice, ice covered with snow, snow. We found them easy to put on and did not need to reposition them, even after an hour of steep downhill on a frozen trail. If their weight of 422 grams (average size) is not negligible, the Hillsound Trail Ultra we still seemed light foot and comfortable. The most appreciated detail, besides overall performance, is the velcro strap holding the rubber sheath in place, eliminating the annoying need to reposition the studs without stopping. Tested on Merrell Moab boot. Here's the link to know more about the Hillsound Trail Ultra.
Verdict: 8.5 / 10
Pros :
Aggressive metal cleats, flawless grip
Easy to put on
Velcro strap helps keep the set in place
Cons :
Non-negligible weight
Slightly noisy (metal chains)
Kahtoola Microspikes
Composed of an elastomer sheath wrapping the top of the boot and chains attached to metal cleats, the Kahtoola Microspikes set is the lightest of the two sets tested: 338 grams (medium size). With its 12 peaks of 10 mm, Microspikes allow a natural and comfortable approach. Although their catch on ice is good, we would sometimes like to have a few millimeters more peaks under the foot, especially in very steep terrain. Very noisy, these crampons also tend to move under the foot because of the back of the sheath that descends gradually, especially when put on a boot with a convex heel - like the Zamberlan Tofane - on which we had to constantly stop to replace the crampons. This irritant can be adjusted in part by adding a strap (snowshoes type). Tested on Merrell Moab and Zamberlan Tofane boots. Here's the link to know more about the Kathoola Microspikes
Verdict: 7/10
Pros :
Reasonable weight
comfortable
Reassuring catch on ice
Cons:
Must be repositioned regularly on a convex heel boot
Very noisy
This article was written by our friends at Expédition Canine who has tested each brands.
---