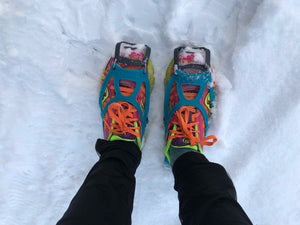 5 tips for running during the winter
Finding motivation
It's dark, it's cold and it's not always easy to stay motivated! My little trick is to focus on the upside:
- The fresh air that will energize me
- The feeling of accomplishment
- My overall wellbeing
 And I do not put too much pressure on myself to keep up the pace. If the weather is terrible, I simply postpone and reduce the frequency. We have no choice but to adapt to our beautiful province of Quebec!
Avoiding injury
Slipping on a patch of ice is the most common winter injury. Wear good running cleats such as Kahtoola Nanospikes. They are a bit noisy on the asphalt, but ideal on snow and dirt trails. 
 The cleats attach securely to your shoes and you will avoid a possible fall. What's more frustrating than having to stop practicing your favorite sport because of an avoidable injury?
Staying visible
Daylight is short during the winter in Quebec! Whether you choose to go out in the morning or in the evening, you will most often run in the dark. Make yourself visible to motorists! This is made even more important due to the slippery roads, on which an abrupt last-second movement is not recommended.
 Some solutions:
- A lighted or reflective jacket over your clothes
- A lamp on the forehead, on the arm or on the leg
- Reflective stripes on your clothes 
Dressing accordingly 
Resistance to cold differs from person to person. Dress well to avoid skin irritation caused by the exposure to the cold weather. You will obviously be hot and you will sweat a lot, but that's normal, you are practicing a high intensity activity after all. You can't hope to run and stay dry just because it's cold!
 Take a shower as soon as you come back home and treat yourself to a nice hot beverage!!
Your shoes
Your shoes are your best friends. In summer as well as in winter, choose a pair of running shoes that are comfortable and tailored to your running style - shoes with more or less pronounced drop between the heel and the toes exist on the market. Visit a local fitness store that will advise you.
Should you buy shoes for the winter?
It's a very personal choice. I prefer to run with my favorite shoes and put on a pair of merino wool stockings. Do what's comfortable for you and your budget.
What are you waiting for? start running!
 Phanie
 Life is outside! I am a girl that is an avid nature, open air and active life lover. My goal is to share my experiences, my hopes, some great projects and more, with you! I also express my passion for nature through my photos that you can find in blogs and photo galleries. 
 What are you waiting for? start running!
 Phanie
 Life is outside! I am a girl that is an avid nature, open air and active life lover. My goal is to share my experiences, my hopes, some great projects and more, with you! I also express my passion for nature through my photos that you can find in blogs and photo galleries. phanienature.com
---